Deanne Draeger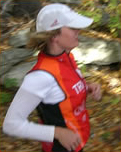 "I came to TriLife with very little athletic background. Before beginning the program, I candidly discussed my lack of experience and lofty goal of completing an Ironman with the coaches. Based on extensive personal interaction with me in a training environment, they were able to address my specific needs and guide me through the physical/mental/emotional development required to evolve from newbie to Ironman in a ten month period.
The program is top notch. It is intelligently designed by endurance sports experts who have been there/done that and get true joy from sharing their passion with others. Training plans are broken down into weekly, comprehensible chunks with ample coach context and commentary to make the impossible possible in small steps over time.
Teams are carefully selected and purposefully kept small to ensure maximum coach/athlete interaction and foster an environment of team camaraderie and bonding. I had never considered myself a "team" person, but I found that being surrounded by a group of truly great people (the coaches do an excellent job of team selection) from all different backgrounds striving to achieve the same goal was exceptionally motivational.
A final word on the coaches: Their professionalism, experience, and love of what they do is inspiring. I am proud to consider myself a "Lifer", and highly recommend the program."
---
Gil Schorr

"I did the 2008 Ironman Lake Placid program with TriLife. This was my third season doing triathlons. In 2006 I did a few Sprint and Olympic distance races and in 2007 two Half-Ironman races. I had no competitive swimming, cycling, or running background prior to starting triathlons.
Looking back, I don't think I had any idea what I was doing until I started training with Trilife. The "building block" approach developed by Scott and Ross not only prepares every athlete physically, but mentally as well, which is just as critical for getting to the finish line of an Ironman.
Their results speak for themselves. Every single athlete who started the race in 2008 reached the finish line. This is not a simple achievement for a 140.6 mile event. I strongly recommend TriLife for every athlete wanting to take on the challenge of an Ironman."
---
Charlee Garden, PhD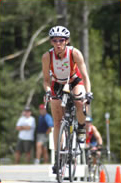 "I became an athlete through TriLife. When I first started training, I couldn't swim across the pool, and I was an 11 min/miler on the run. After training with TriLife, I am a two time Lake Placid Ironman, with a PR of 12:26:44. Most importantly, though, through TriLife coaching and methodology… I've embraced a new lifestyle. Thank you Ross, Scott, Earl, Lance and Kim."
---
Stacey Spain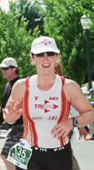 "I had only ever completed a single half ironman before joining TriLife (not even a sprint or Olympic) – I was terrified that I wouldn't be prepared for the challenge of an Ironman – but the athletes who had completed the program before me assured me that our coaches would prepare us in ways we would never realize until we were in the middle of the race. They couldn't have spoken a more genuine truth. The TriLife coaches are incredible – beyond any training I could have dreamed up on my own – they offer support in ways that you wouldn't imagine that you need it – they give you both tough and gentle love – depending upon the brand you need – and solely because of them, along with a little mental tenacity that I happened to receive at birth – I completed two Ironman in two years. It was an honor to train with such amazing coaches and such an incredible group of human beings. You taught me how to suffer with dignity!"
---
Connie C.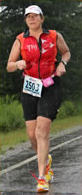 "As a non-traditional IM candidate (a little older/slower than the average) I can say without a doubt that the TriLife program can work for anyone committed to training. I'll admit that I was worried when the season started that I would not be able to meet some of the challenges in front of me, but as the season progressed the results of the carefully-calculated program unfolded and left me ready to rumble right on time. I trained beside people half my age and almost twice my speed – I consider them some of the greatest friends and training partners I will ever have. It's a testimony to a well-crafted program that we could all train side-by-side but all team members got exactly what they needed to bring out their very best."
---
Kristen Bowes

"Although I was new to triathlons, as a 9-time marathoner with a 3:14 PR, I thought I knew what I was doing when I joined TriLife, at least when it came to running. WRONG. You have to let go of EVERYTHING you think you know about your strong sport(s), and you have to put your "life in your coaches' hands" so to speak, and trust that they will train you to become an IRONMAN TRIATHLETE – not a stronger runner, or a better swimmer, or a faster cyclist. And you must put your full trust in them for the entire length of the training – ten full months – and have faith that they will successfully guide you across the finish line. I did, and there was not a speck of doubt in my mind when race day arrived that I would finish, and I did of course, with faster overall time that I thought possible."