WE RECENTLY ANNOUNCED
OUR NEW SEASON!
TriLife recently announced the new season programs and the response has been overwhelming! Let's go over some of the new and improved things you may have noticed.
DATA
Due to popular demand, we've created an enhanced data "Add-On" called  ADAPT – Advanced Data Analysis Performance and Training . This added benefit will provide one-on-one collaboration between a coach and an athlete and will include the following.
A one on one monthly phone call which will:
– Establish or review athletic progress and performance to date
– Review current work/life balance and schedule and prioritize/tweak training plan to fit
– Review/manage overall fitness progression
– Review/manage individual swim, bike and run fitness progressions, identify and capitalize on biggest opportunities
– Body check – Injury prevention awareness, sleep, stretch, roll and recovery measures
– Review nutrition and goal/race weight management strategies
– Establish short and long term goals
Separately from the phone call, we will:


-Identify and review up to 4 key training sessions per month, providing direct feedback through an on-line app. This app maintains a private dedicated log of communications between coaching staff and the athlete -Provide access to Trilife nutrition, gear, race schedule and planning, plus other open source and proprietary resources
The aim is to ensure the athlete recognizes their biggest opportunities for improvement and to raise the athlete's knowledge base to the next level. ADAPT requires  a Training Peaks Premium account, heart rate monitor or power meter and a GPS watch/computer. Structured workouts will be formatted for specific power meter and/or heart rate zones.
$100/month with a 3 month initial commitment
NEW GEAR
TriLife is redesigning their training and racing gear this year so teammates new and old can look spiffy while kicking butt. If you are an alum, we are offering $$ credit towards new gear if you sign up for Foundation AND any 2018 training program.
BUILD YOUR FOUNDATION
Pre-season is the ideal time to focus on developing the key elements of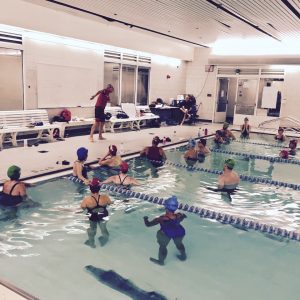 movement economy in swimming, biking and running. The Foundation Program is designed for athletes who already have some triathlon training experience and want to improve their performance. It is not an introductory program. You should be able to run 4 miles, bike 2 hours and swim ½ mile freestyle. Learn to run with light and fast feet, and to manage your effort level while running up or down hills. Train to handle your bike like a pro. Learn how to change a flat in under 4 minutes! How fast you swim/bike and run is secondary to how you do them in this program. Finesse now is fast later!
The Foundation Program is ideally  combined with the IRONTEAM Program or the 70.3/SHORT COURSE Program for the ultimate training experience! If you are committed to be your best, this is your best choice.
We also offer "a la carte" options of our Foundation Program, the most popular being Tri Swim Only.   Cost varies with each a la carte program.
The full 12-week Foundation Program runs $600.
REMOTE TRAINING
For athletes who cannot attend team workouts due to location or scheduling, we are offering a Remote Training option. This includes personalized data analysis and regular access to your personal coach.  A Training Peaks Premium account is required.
The initial 3 month minimum program is $550, then $150 a month thereafter. A 10 month season would be $1,600, which averages out to $160 a month  – a great deal!
DROP-INS
Commitment is difficult. If you would like to drop-in on any of our workouts or camps, we've got you covered. Please inquire about pricing.
We hope you will join us for our 15th season. Visit our Training Programs page for more information on all of our offerings.