Why Every Athlete Needs a Little TLC (TriLife Coaching)
Triathlon training is very simple. Get out and swim, bike, or run. Learn some skills. Elevate your heart rate. Buy Gatorade. Race a lot… But, is this a smart way? Will you get faster? How do you overcome an injury? Do you need aero helmet? What makes a training plan right for you? You can do your own research and learn about biomechanics, sport technique, training intensities and sport gear but will there be enough time left for you to train? TriLife coaches take care of this.
The TriLife Coaching staff has studied the varied disciplines required for success in triathlons, have refined their own skills and abilities as athletes, and have coached hundreds of athletes, learning from each one of them. All of these ensure that the TriLife coaches will apply the proper and proven training techniques. Our coaches continue to study, learn, and consult other coaches, physiologists, physical therapists, sport equipment specialists, and nutritionists to guarantee optimal coaching. The TriLife coaching staff applies such knowledge to the training programs designed for TriLife athletes, taking into consideration individual athlete goals, experience, and abilities, and constantly adjusting programs and workouts according to athlete's physiological and psychological responses to the training <stress.
The goal of the TriLife Coaching is to provide a training environment that is motivational, multifaceted, step-by-step, and performance enhancing.
TriLife coaches believe that the decision to train for endurance sports is one part of an overall active lifestyle, not just an add-on to one's lifestyle. The TriLife Coaching helps athletes create and maintain a lifestyle commitment to healthy living that balances their daily life with athletic pursuits.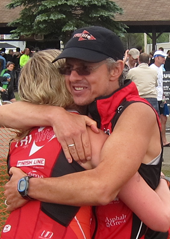 Within TriLife programs, athletes benefit by training with their teammates within a program that is closely monitored by their coaches. TriLife is unique in its approach to coaching. The number of participants in each program is intentionally limited to match the number of athletes that the coaching staff can coach with confidence. Maintaining a smaller client base ensures that each athlete's needs are well known and more easily met by the coaching staff that comes to know every athlete on an individual level.
Some TriLife training methodologies and coaching approaches are designed for groups of athletes with a common race event. These athletes prepare for their events in teams. Other coaching efforts are specifically designed approaches that meet individual athlete needs that may differ from the group programs currently being offered.
TriLife Coaching provides group-training environments for multisport athletes, primarily triathletes, but can also offer customized programs for runners, swimmers, adventure racers, and road racing cyclists.
Events range from sprint to ultra distances. No matter whether you are a beginner, a recreational participant, or an elite age grouper, the TriLife Coaching can help you meet your goals.
The expertise of our primary coaches, and support staff of physical therapists, equipment specialists, and nutritionists is unparalleled.
The TriLife coaching staff believes that there are many facets that work together to lead to success. Included in the TriLife multi-prong approach to success are: training plans, goals and fitness evaluations, skills and technique sessions, injury prevention and management, and attention to nutrition. TriLife coaches and support stuff work closely together to design training and lifestyle modifications that will help athletes achieve optimal performance safely, effectively and joyfully. The hundreds of satisfied and improved athletes are the credentials of which we are most proud.