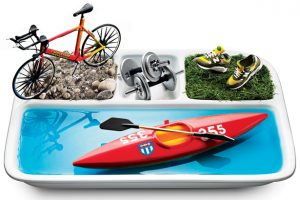 Looking for new sports challenges? Join TriLife's Fall 2017 Foundation Program training to prepare for Adventure Racing in 2018.
Adventure Racing is a multi-discipline sport combining a broad range of activities: mountain biking, trekking, trail running, kayaking, rope work (climbing/rappelling), and more, all done while orienteering through the wilderness, solely with a map and compass. Participants race in teams of 2 to 4 people. The races can last for a few hours or several days. The multi-day events are called "Expedition Races" – you won't discover new continents, but will cover 300+ miles and experience memorable adventures.
The goal is to participate in a 2018 premier expedition race: Shenandoah Tough Expedition Race, in the Shenandoah Valley on September 13 – 16, 2018
How will it work? We will train together during the Foundation Program which runs throughout a December. In January, we'll start on an Adventure Racing specific program to refine skills necessary to complete and compete in an adventure race including trail running, mountain biking, kayaking, rope work and map and compass/navigation.
Throughout the late winter and spring of 2018 we will assemble into 2 -3- or 4-people teams for training events/races and ultimately assemble 3 or 4 person teams to compete at Shenandoah.
No prior adventure racing experience required, but endurance background (Ironman, ultras, etc) is beneficial.
For more information, please contact Iwan Axt.